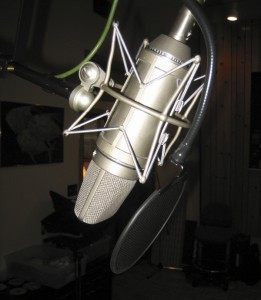 Voice Over Workshop
Learn what it takes to be a voice talent
August 24, 2014 • 1:00 – 5:00 PM
Join us for an voice over workshop held in the recording studio, presented by two experienced professionals currently working in the field. This is an opportunity to work on your skills in a recording session, not merely a classroom experience. If you're interested in being a voice-over artist, this workshop is for you.
The voice over workshop offers:
Reading & recording using commercial advertising/narration copy
Listening to your playback and receiving useful feedback from two working professionals
Personalized advice based on your skill level
Learning recording studio protocols and terminology
Tips about how to work with recording engineers & producers
Updates about the current state of the voice over industry
If you are NEW to voice over, you will:
Learn the basic techniques of voice over talents
Discover the secrets to read and interpret scripts
Gain practical experience behind the microphone
If you have experience with voice over, you will:
Practice cold reading & interpretation
Discover gaps in your experience & learn ways to overcome them
Increase your skill level
Improve your ability to take direction
This half-day workshop is limited to 8 participants.
$200 registration fee, 50% deposit required.
Contact Don: 541-343-2692 or eugenevoclasses[at]gmail.com
Presenters:
Don Ross is a Grammy-nominated recording engineer. National clients include: Sony Music, Universal-Motown, Columbia Pictures, Warner Bros. Television, New Line Cinema, Walt Disney Company, Fisher-Price, NPR, Yahoo!, and DRAFTFCB, Chicago. Don is a veteran engineer, producer, professional musician and voice talent. He was inducted into Oregon's Music Hall of Fame in October 2011.
Bill Barrett is a voice over talent with over 30 years of experience.His client base is local, regional, national and international. A two time Country Music Association "Broadcast Personality of the Year", Bill's New Country 93.3 morning show, Barrett, Fox & Berry has remained Lane County's #1 rated morning show for over a decade. Bill has an incredible range of voice talent…from hard sell retail to guy next-door friendly. He's equally adept at voicing narration for video as well as knocking out outrageous character voices. For more info: www.billbarrett.info